News
1977 Honda CB750F update 5
After driving out the old guides, I needed to install the new bronze guides. First, I measured them to make sure they were within .001 in. The procedure is pretty simple- Put the head in the oven at 300deg F and put the guides in the freezer. After the head is all warmed up (30 […]
1977 Honda CB750 update 4- valve guide wear video
Since I could never get the bike to run well even after all the normal tuning and carb cleaning, I decided to pull the motor apart and take a look. It had a very "rattly" sound to it which bothered me. Nothing looked wrong except the valves had a lot of wet carbon build-up in […]
2014 Barber Vintage Festival!
Its coming up quickly- October 10-12 and I suspect it will be even bigger and better than last year. Every year it gets bigger and I don't really see how they can get more people in there on Saturday or Sunday but it will be awesome. From the earliest Harleys, Indians and Triumphs to the […]
1977 Honda CB750F update 3
Well, after installing and playing around with the rebuilt carbs for a  couple of weeks, it became clear that something else was wrong so I checked the valve timing and it may well be off, but its hard to tell since the timing marks are on the ignition advance unit and it has so much […]
Some Nice 2-Strokes
I stopped over at one of my customer's garage to pick something up and had to take a couple shots of the bikes I had painted for him. It is a very nice and rare collection- Yamaha RZ500 with the Japanese aluminum frame, A 75 Can-Am 250 that was converted into a road racer right […]
1977 Honda CB750F update 2
I've been working a bit on the CB750 and here is where it stands- the gas tank had a fair amount of rust inside and some small rust-through pinholes so I used the old distilled vinegar trick to clean it out before using POR15 sealer on it. Vinegar is a relatively mild acid that works […]
1985 Kawasaki Ninja 900 update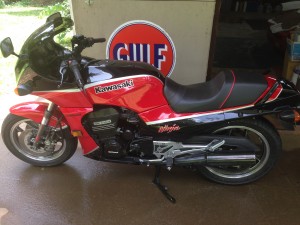 Well, the Ninja is back together and looking awesome! The owner still has some small things to finish before it is ready to ride but as you can see, it is almost ready. The bike had a Kerker pipe on it but the stock pipes are in just about perfect condition so he rebuilt the […]
1985 Kawasaki 900 Ninja Project
Well, I've been busy and not posting updates but here are some progress pictures. After getting all the repairs and bodywork done, everything was primed with epoxy primer and then the Firecracker Red base coat was sprayed. After drying for a day, I used the new decals to layout the lines where the red would […]
1985 Kawasaki 900 Ninja

One of my customers recently bought an 85 900 Ninja with only 7000 miles on it. Mechanically, it is in good shape but cosmetically, it is rough. It was repainted at some point in the past and done very poorly so we are starting from scratch and painting it in the original firecracker red and […]
New Rim Stripe Tool – Very Cool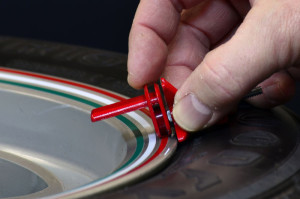 My friend Rob at Tapeworks has been working on this project for several months now and it is in the final stages before production. Make sure you head over to the Kickstarter page and get in on the action. He needs to raise funds to have all the molds made (which are VERY expensive) and […]
1985 BMW K100 paint
Well, I've been seriously lazy about updating the website but here is the latest project- a 1985 BMW K100 with some later bodywork pieces. The owner wanted metallic orange similar to what Lamborghini uses and it really looks great. Digital cameras struggle with colors this rich but the front shot give you the best idea […]
1977 Honda CB750F carbs- rebuilt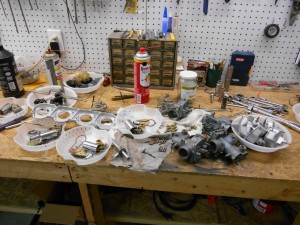 Well, I haven't been totally unproductive for the past month but I haven't exactly been setting the shop on fire with activity either. However, now that it is warming up, I'll be spending more time working on the bike so it should progress more quickly… As "old bike people" know, the carbs on a 37 […]
1977 CB750F update
Well, I think I've decided to go in the direction of the Street Tracker that Airtech has on their site. The tail plastic on this bike is cracked and pretty beat up and the Street Tracker tail looks great so we will probably use it. But, I'm going to stick with the original gas tank […]
1977 Honda CB750F Project- Brakes!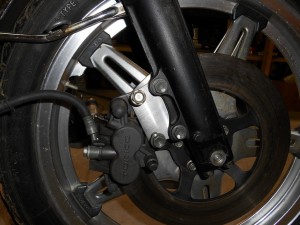 One of the first things that needs to be done on this bike is a brake upgrade. Actually, I need brakes of some sort just to move it around since it is so heavy. The problem is that the original brakes are in pretty bad condition- rusted calipers, frozen master cylinders, etc. I think I […]
1977 Honda CB750 project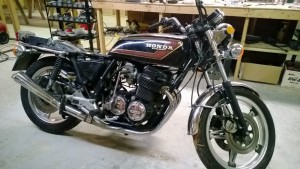 Well, there is a new bike in the shop and I'm still undecided about what direction to go with it. It is a complete stock 750 right down to the turn signals- although the muffler has been changed. The stock seat is in excellent condition and the bike only has 12,000 miles on it. I'm […]
New Harley Davidson 500cc and 750cc bikes
So,  a friend of mine owns a Harley dealership and sent me a few pictures of the the new Harley line of smaller bikes that was introduced yesterday in KC. For a lot of people who own Harleys, customization is one of the main draws. We all like to make our bikes unique in some […]
Barber Vintage Festival- 2013 pictures!
Well, this years vintage festival was another great success and the weather was perfect. As usual, lots and lots of restored and original vintage bikes and some great racing too! Here are a few pictures from the weekend.
Barber Vintage Festival is coming up soon!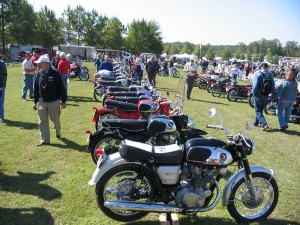 Don't forget to plan on attending the 9th annual Vintage Festival October 11th-13th. You can get all the details and buy tickets over on the Barber website. I've been going every year since it started and it is always an awesome weekend with thousands of vintage bikes, racing and the amazing swap meet if you […]
Yamaha RZ350 restoration gallery pages are up
I've added some pages under the "Galleries" tab that chronicle the RZ350 restoration process from start to finish. Feel free to link to the pages, but please don't just link the photos since it totally misses the whole project and the point of posting them. Enjoy…
RZ350 restoration finished…
Well, the big day came and I moved her from the shop to the garage- and then rode all afternoon! It runs great and it really a blast to ride. Here are a few pictures of the finished product but I am working on a page under the "Galleries" tab that will have the whole […]
Yamaha RZ350 restoration- first start!
Well, after fixing a small leak around the petcock, she started on the 3rd kick. Pretty sweet. Runs great and sounds awesome… I'll finish the buffing tomorrow and get it all assembled for it's first road test.
Yamaha RZ350 restoration- part 15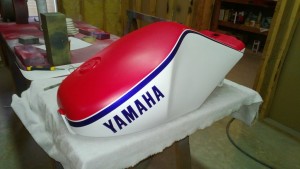 We are moving along with the paint and after the pearl white, I painted the red. After the base red, I mixed a pearl top coat to give it the sparkle of the original color. On the factory bike, the red was painted on some panels like the tank and tail cap, and decals on […]
Yamaha RZ350 restoration- part 14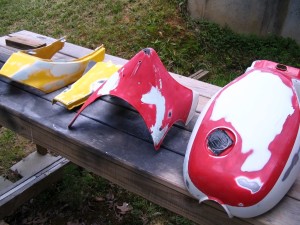 The bodywork is moving along and the epoxy primer, polar white base and diamond pearl is on the parts. The tank was in decent shape but had some dents, dings and lots of scratches that needed to be filled and of course, all the old decals had to come off. 28 yr old decals come […]
Yamaha RZ350 restoration- part 13
The mechanical stuff is about as far along as it can go without getting the bodywork done since I will need the gas tank (with gas!) pretty soon. The brakes are on and bled. All of the bodywork is done to the point of paint. The white epoxy primer is on and colors are next. […]
Yamaha RZ350 restoration- part 12
Well, progress continues and after fighting the old DG pipes which really didn't fit well, I've got them installed and not contacting the frame anywhere. The radiator is back on- had to get the pipes on before the radiator… The brakes are ready to be hooked up and bled and the body work has the […]
Yamaha RZ350 restoration- part 11
Today I'm hooking all the electrical back up and also doing a bit of bodywork. I'll post that later, but here are a couple of pictures of the frame  with the motor installed. Such a cool old bike…
Yamaha RZ350 restoration- part 10- the motor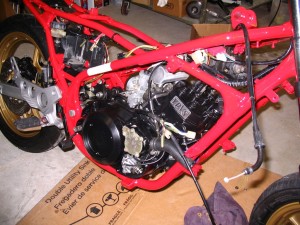 The motor is back in the frame… it ran fantastic and was well set up when I got the bike. It only had a couple of thousand miles since it had been rebuilt although that was a few years ago. But after looking in the exhaust ports and seeing how clean they were with a […]
Yamaha RZ350 restoration- part 8- rolling frame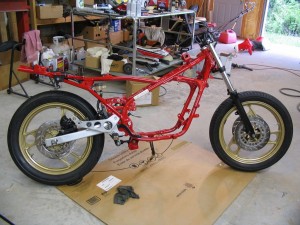 The front end is back on and progress is being made on the hundreds of small items that will need to be refinished if the bike is going to have a "restored" look versus just a "repainted" look. While I'm not replacing every nut and bolt, I am cleaning and polishing them so it retains […]
Yamaha RZ350 restoration- part 7
Both wheels are now painted and clear coated. The brake rotors are bead blasted and I think I'll leave them like that instead of painting the centers gold or black. The rear shock is actually in very good condition and cleaned up nicely. I did paint the spring by hand since it was looking a […]
Yamaha RZ350 restoration- part 6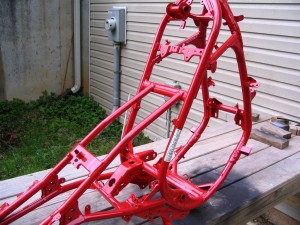 The frame and swingarm are done- clearcoat on the frame and a medium sparkle silver on the swingarm. I will say, you better be on your game when you are clearing a frame as complicated as this with lots of tubes, tabs, cross members, and 360 degrees of coverage needed. Here are a couple before […]
Yamaha RZ350 restoration- part 5
The frame has been epoxy primed and base coated. A few people have asked why I just didn't get the frame powder coated. Several reasons- 1st, they can't match it to the paint I am going to use on the panels and I want it to match. 2nd, The bike still has the original VIN […]
Yamaha RZ350 Restoration- part 4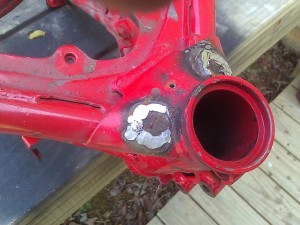 The previous owner had welded some lugs to the frame by the steering head to mount a modern style Yamaha R1 steering dampener. Not a nice clean job and they were rusting, etc. The bike really doesn't need a steering dampener and I want it basically stock looking, so I had to cut and grind […]
Yamaha RZ350 restoration- part 3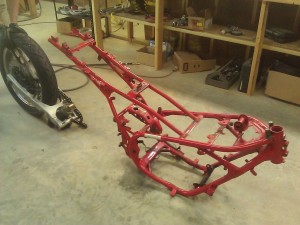 Not much to see- except a bare frame. The motor is pulled and sitting in the parts washer. The swingarm is apart and the nice thing is that all of the linkages and pivot bearings are nice and tight. So it is mostly a matter of cleaning and painting. I still haven't decided on a […]
Yamaha RZ350 restoration- part 2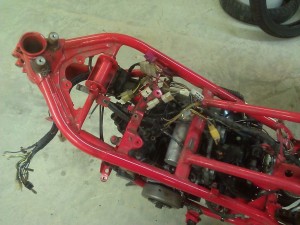 Well, the bike is almost all in pieces. The wiring harness is a mess since the bike was raced and some of the wires were cut. I'm sourcing some original stuff and will have to make some. After the engine is out, the frame will be painted back in the original red, and the engine […]
Forged Marchesini Wheels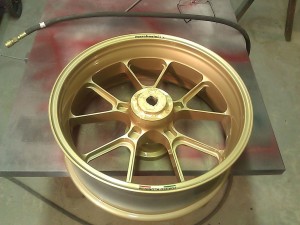 These are some forged aluminum Marchesini that are going on a customers GSXR1000. The stock black was too plain for him and he liked the gold we painted the wheels on his Ducati 916, so that's the color we went with.  You don't realize how dull powdercoating looks until you see it next to something […]
Yamaha RZ350 restoration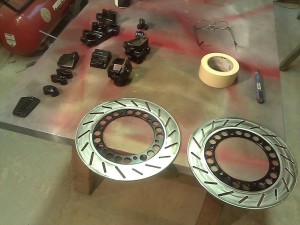 So, the front end is apart and we are making good progress. Front wheel is painted gold… the rotors are cleaned up and centers painted, forks are painted, all the handlebar switch gear is painted, master cylinder is painted, upper clamp is painted and the upper stay will be bead blasted and painted tomorrow. The […]
1985 Yamaha RZ350 project
Well, I've always wanted one of these so when a friend (the guy who owns the RZ500 and the Hejira) told me he knew someone selling one I pounced on it. This bike is a Canadian model that has a race history so the engine has lots of upgrades. It runs really well. I was […]
Yamaha DT360 update
Here are the finished tank and rear fender. We cut off about 3 inches and relocated where the new taillight will mount. Great colors- antique gold and dark teal. The gas cap was is terrible condition so I stripped all the corroded chrome off of it and painted it in wrinkle flat black to hide […]
Yamaha DT 360 pictures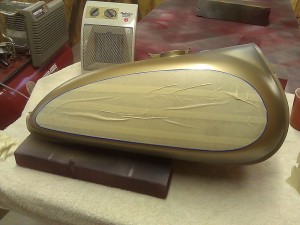 After getting all the bodywork finished, the next step is to put the base coats on. In this case, we are using an antique gold and dark teal. We put the gold on first so that it can be masked off easily to put the teal on. Taping off the tear-drop panel is not a […]
1973 Yamaha DT 360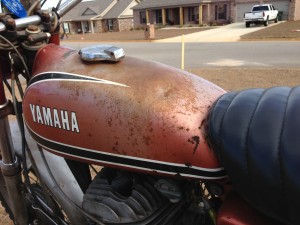 This was a fun small job that I did for the guy who bought my Triumph Street Triple R (which I now regret selling!). He is doing a cafe style semi-restoration on the 360 and so we needed to paint the bodywork. We picked a good classic/retro color scheme of dark teal and gold for […]
Hejira Update- 7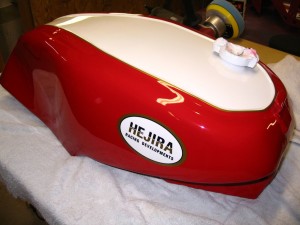 Well, the paint is all finished on the cafe style bodywork. It really looks great. I'm looking forward to seeing them on the bike. We still have a set of full race fairings to paint that will be used with the same tank and tail. So, they will also be red with some white and […]
Hejira Update- 6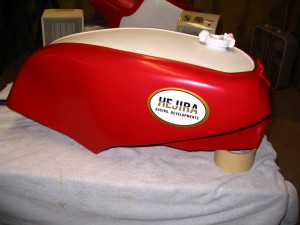 Here are a few pictures of the progress- the red is on and the graphics are on. The Hejira decals that Tapeworks.com made for me are far better than the original that we had to scan and work off of. It is going to look great. The red/white/gold is a great color scheme and with […]
Hejira Update- 5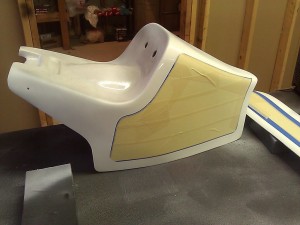 A few pictures as I get ready to put the red on… here are the parts with the panels taped up- so, what is under the tape is the polar white we sprayed on a few days ago. Laying out and striping panels is pretty time consuming. Lots of hours tied up in these but […]
Hejira Update- 4
We've made some good progress- after some final sanding and finishing, the epoxy primer was applied and then we went back and touched up some areas with spot filler and block sanded everything. One of the biggest decisions to make on a 50 year old bike that has a hand made aluminum tank and fiberglass […]
Hejira Update- 3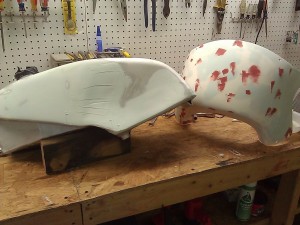 The filler and sanding is more involved than it looks… you need to put the layers on thin, then sand, then another layer until you have the shape and contour you want. Lots of hand sanding and block sanding. It is pretty time consuming. Here, we are getting close to the final product.  It it […]
Hejira Update- 2
The upper and all the fiberglass is media blasted and as you can see in pretty tough shape. The upper has been patched together in a previous life and all the edges, corners and gel coat are very nicked, chipped, etc. I've laid new glass in certain areas to reinforce weak and damaged spots and […]
Hejira Update- 1
Well, I've media blasted all the parts and gotten down to the aluminum on the tank and the gel coat on the fiberglass. The tank was in pretty rough shape with several large dents that had just been filled with (lots) bondo. So I cut the bottom out and pounded the dents out as best […]
New Project- Vintage Hejira race bike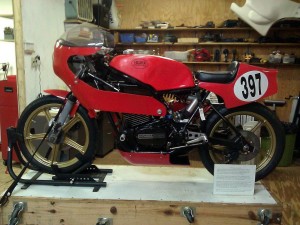 If you've never heard of Hejira before, don't feel bad. I know bikes pretty well and I had not heard of them until one of my clients called me and said he had bought one in England and wanted to restore it. Hejira's were custom built race bikes mainly in the 70-80′s. Approximately 500 were […]
Orange Yamaha FZ1 finished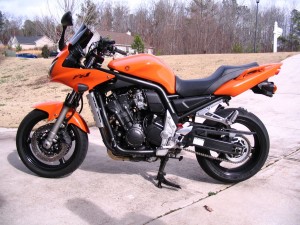 Here are a few pictures of the FZ1 that I painted in that beautiful Lamborghini Orange Pearl… The color and shade change dramatically depending on sun and shading. The logos and graphics are done in 3M carbon fiber vinyl and look awesome with the orange. You can kind of see the carbon look in the […]
Like Us on facebook!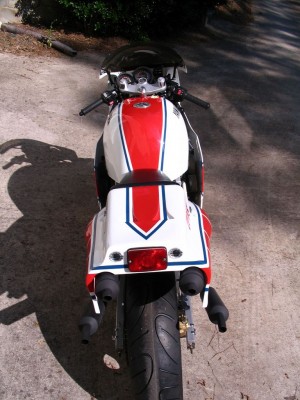 Don't forget to "Like Us" on facebook if you haven't already!
Video - click link for full sized player
Yamaha RZ350 restoration- first start!
Well, after fixing a small leak around the petcock, she started on the 3rd kick. Pretty sweet. Runs great and sounds awesome… I'll finish the buffing tomorrow and get it all assembled for it's first road test.

More Video - click link for full sized player