News
Bultaco Metralla update
I'm going back and forth between the Sherpa and Metralla and today is Metralla day! The engine ran quite well and the owner didn't want to take it apart so to get it ready for paint, we soda blasted it and then used purple cleaner and lacquer thinner to wash it. Since we couldn't risk […]
Sherpa and Metralla progress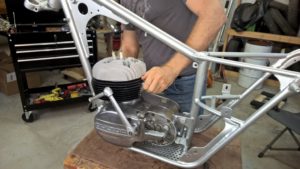 We've been plugging away at both the Sherpa and the Metralla with good results. The Sherpa engine is in the frame and we are looking for a new rear brake hub since the original has some cracks around the pivot posts for the brake shoes. The Sherpa should be on it's wheels very soon! The […]
Bultaco Metralla Restorations
We've been working on a couple Metrallas for the past few months and there is good progress to report! The frames are stripped, epoxy primed and painted the original gloss black. There are many other parts that have been either bead blasted and refinished or polished. We will soon be reassembling both the Sherpa and […]
2016 Barber Vintage Festival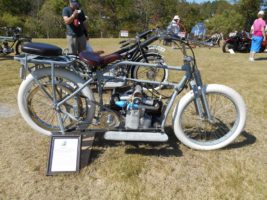 What an awesome weekend for motorcycle fans! with over 73,000 people in attendance, it was the most successful event yet. Perfect weather helped, but the event it always well run and managed. Here are a few shots from the weekend- enjoy!
2016 Barber Vintage Festival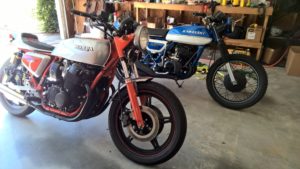 Getting all the bikes ready for the Barber Vintage Festival is always hectic. This year we are taking the 77 CB750F and the 73 Kawasaki S1. The 750 needed some carb work like most old bikes and I took the chance to rejet it at the same time. Runs fantastic and pulls hard all the […]
2016 Barber Vintage Festival
Mark your calendars folks, the Vintage Festival is fast approaching. Easily the most popular event that Barber holds each year, it continues to grow. Such a fantastic weekend! More bikes than you can possibly look at, swap meet for parts and bikes and vintage racing. I'll be bringing the Kawasaki S1 and the Honda CB750F […]
Bultaco Sherpa restoration
The bodywork and frame for the Sherpa have been done for quite a while waiting on the engine to come back from the rebuilder and the wheels to have new rims laced on. Those are now back so we will start putting it back together soon. Here are a few pictures of the parts waiting […]
New Project- 1978 Bultaco Metralla GTS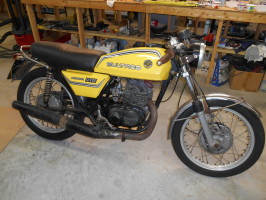 We have started working on a 1978 Bultaco Metralla GTS 203 series for a client. Very cool old 70's vintage bike. 250cc 2-stroke that runs really well. It is pretty rough cosmetically, but no worse than the 73 Kawasaki S1 which turned out pretty nice. Motor is out and we are getting ready to blast […]
Kawasaki S1 First ride video
After several 15min break-in cycles, it was time to run her around the block… Click through to watch the video.
The Kawasaki S1 is on the road!
I've added the first ride video to our YouTube channel here, so go check it out! Kawasaki S1 first ride after restoration
73 Kawasaki S1 update 9
We've made lots of progress in the past weeks… the engine is in, the carbs are on with all the cables (lots of cables!), the wiring harness is in and almost complete, The chrome handlebars have been swapped out for some matte black superbike bars, the chain/sprockets are on and we are ready to install […]
73 Kawasaki S1 update 8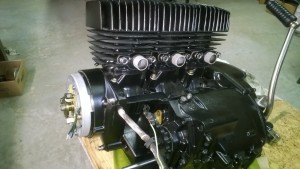 We are moving along on this project since I've had a bit more time to devote to it lately… The seat is done, the electronic ignition is installed, tiny little intake manifolds are back on so, the engine is ready to be put in the frame. Lots of little details are being taken care of […]
73 Kawasaki S1 update 7
Well, we have a rolling frame, new tapered steering head bearings, tires on and getting close to putting the engine back in. The instruments were in really rough shape and needed disassembly, cleaning, a new lens for the tach, painting and some custom made foam spacers/isolators so they would mount back in the housing with […]
1973 Kawasaki S1 update 6
Well, the paint is on and looks fantastic in diamond pearl white and blue. The wheels have the white and blue rim stripes on and assembly is progressing. The old steering head bearing were destroyed and one of the races was cracked all the way through so I'm guessing the bike was ridden in the […]
1973 Kawasaki S1 update 5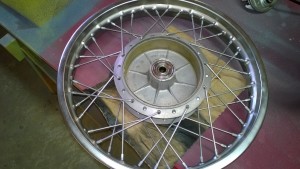 Well, lots going on with the S1… The wheels were corroded but solid and I decided that for the price point of this bike, the only real option was to bead blast and paint them. So, it was also a good chance to clean and blast the drums as well as repack the bearings. After […]
1973 Kawasaki S1 Update 4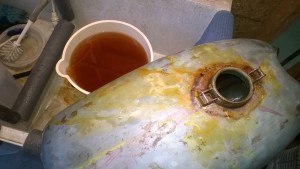 With the tank stripped, it needed to have the inside cleaned out before it was sealed. There are several types of acid that will clean out the inside of a rusty tank but the easiest and safest is white vinegar- acetic acid. It is mild and you need to let it sit for a few […]
1973 Kawasaki S1 update 3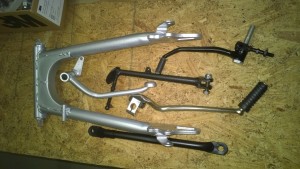 Moving along with the S1, we are getting all the little stuff blasted and repainted. There are just a ton of small parts that have to be refinished on a project like this and it is pretty time consuming since it is detail work. Like the handlebar switches, bar risers, air cleaner, fuel petcock, side […]
1973 Kawasaki S1 Update 2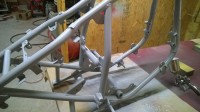 With the frame stripped, blasted and epoxy primed, it is time to get busy on some of the other components. Notice how nasty the welds are on this bike- really just typical for a 70 vintage machine. Next, I need to rebuild the front forks, order the electronic ignition, bead blast the gas tank and […]
1973 Kawasaki S1 Triple Update 1
Well, I've actually been pretty busy on other bikes but a few things have been accomplished on the S1. The motor is reassembled, the carbs are done and look great and a few small items have been bead blasted and painted. The cylinders are bored 1mm over and new pistons, rings, wrist pins and outer […]
2015 Barber Vintage Festival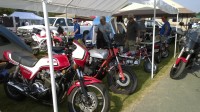 Another great year at Barber for the Vintage Festival! Total attendance this year was up about 5000 to over 69,000 people. The bikes, displays and swap meet were all great and you always meet some interesting folks. The Vintage races were really fun to watch and it's not just the bikes that are vintage, a […]
Bultaco Metralla Mk2 all back together!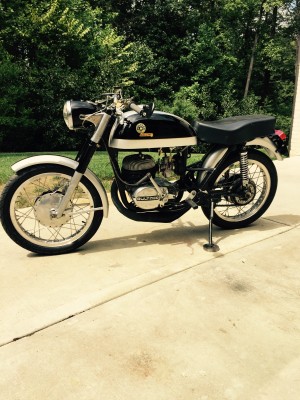 The customer I painted these tanks and fenders for has reassembled one of the Metralla's and it looks fantastic! Such a great looking bike with classic lines. The 250cc 2-stroke engine was supposedly good for 100+mph. That is serious for the late 60's. With modern tires and oils, it may actually do a bit better.
2015 Barber Vintage Festival Oct 9-11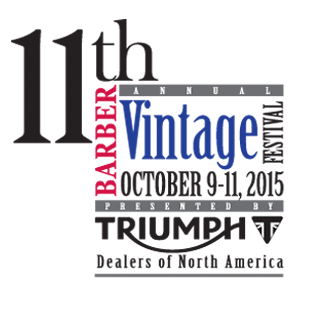 If you are on this site, you probably have already heard of the awesome Barber Vintage Festival and this year's is fast approaching! Scheduled for Oct 9-11th, it is sure to be bigger and better just like every year so far. With rows and rows of swap meet parts and bikes as well as thousands […]
1976 Honda CB550 custom paint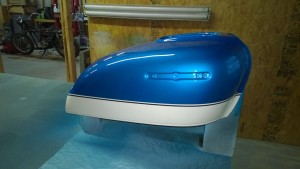 One of my customers is doing a resto-mod on a 1976 CB550F and we painted the tank and side covers in the original Honda candy sapphire blue. On the candies, you paint a silver base coat and then spray layers of translucent color until you have the desired color depth. Beautiful color that really pops […]
1973 Kawasaki S1 250cc triple
With the CB750 done, I needed another back-burner job to keep me busy when I had time in between customer projects. So, I bought this old S1 triple and pretty much regret it at this point. But, hey it will be a super cool bike when it is done. The motor was seized up, water […]
Bultaco Metralla Mk2
With the yellow Bultaco's done, we turned to the street versions, which are MK2's. The styling and simplicity of this model is just excellent. The gas tank is a beautiful classic design and we worked long and hard to find original photos so that the stripes and decal placement is correct. These fenders are fiberglass […]
Bultaco Metralla GTS Paint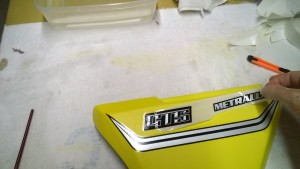 Well, the paint is finished on the GTS's and looks great. As with all old bikes that came in lacquer, picking a shade of the original color is tough since it yellows and fades pretty bad. We had one pretty good side cover that had a bottom section that was never in the sun and […]
250cc Bultaco Metralla's in for paint!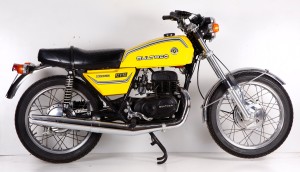 A client has several ultra rare Bultaco Metralla's that he is restoring and we are doing the paint and bodywork for him. 2 of them are the fiberglass GTS models and 1 is the steel tank street version which we will do later. Very cool bikes. The fiberglass tanks were in pretty rough shape and […]
1977 Honda CB750F Finished!
Well, the CB750 is basically finished and running quite good. The seat was made from a 40mm sheet of race seat foam like you typically see on race bikes. It really looks perfect for the style of the bike. After about 40 miles of test rides, it continues to run better and better. The exhaust […]
1977 Honda CB750 bodywork, exhaust, lights
Work continues on the 750… the headlight is installed, most of the bodywork, and we fabricated a nice muffler from a spare Yosh round baffle and a piece of 2.75″ OD 304 Stainless tubing-  but the important dimension was the header end that was a perfect 2″ and slid right into the collector. The 77 […]
1977 Honda CB750- assembly, tuning and first ride!
With the paint done, it was time to get the carbs tuned and the bodywork installed. Old carbs like this are a project! We used a standard set of mercury vacuum sticks and got them all drawing the same at idle. Then we adjusted the idle mixture screws and then rechecked the synchronization. Next, we […]
1977 Honda CB750 restoration- paint!
With most of the mechanical stuff done, We turn to the cosmetic side and the paint scheme. The basic scheme has been set for months since the frame was painted orange a long time ago. But the contrast colors were up in the air… The dark silver I mixed was always first choice but I […]
1977 Honda CB750 update 16
Well, the wiring is in and almost complete and all of the updated brakes are on and bled. The wiring included a new solid state regulator/rectifier, Dynatek electronic ignition to replace the old points, new coils and leads, and lots of minor fixes to the harness and switches. Probably 20 hours of time that I […]
My 2011 Street Triple for sale
Just in time for spring- This is a 1 owner Street Triple with 5300 miles. Never dropped, dinged or scratched. All stock except for the bar end mirrors. Both keys, books, manuals, etc. The Street Triple is probably the best all around bike I've ever ridden- great power, handling, styling and all day riding comfort.
1977 Honda CB750F restoration- update 15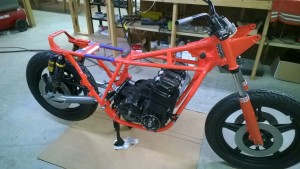 Well, the motor is in! With a freshly painted frame, I was stressing about getting the motor back in without scratching everything up. It is a very tight fit that requires some twisting and turning, so I lined all the frame tubes with pipe insulation and duct taped the lugs and fittings. Having 4 motorcycle […]
72 Honda CT70… aka: Trail 70 restoration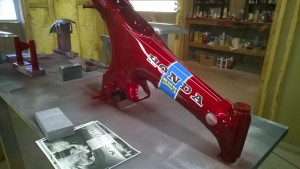 When I was growing up in the 70's, every kid wanted a Trail 70. Now, they are quite collectible and thus restorable- so a friend is restoring his candy ruby red 72. It started in pretty rough but complete condition and is moving along nicely. I took a break from the 77 CB750F I'm restoring […]
Honda CB750F restoration- update 14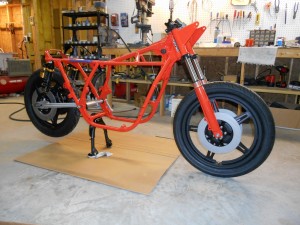 Well, the shocks arrived and are installed… these RFY shocks are Chinese look-a-likes of classic Ohlins or Penske shocks. Obviously not the same quality as Ohlins but not bad. This guy has taken them apart and looked them over and they really are pretty good for the money- about 100.00/set on ebay. Note that you […]
Honda CB750F restoration- update 13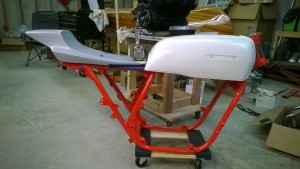 So, today we installed the new Dunlop 404 tires and we are working on the final fitting of the tail section. As soon as the new rear shocks get here, we will have a rolling frame and be ready to install the engine! The taillight is out of some 70's vintage bike which I pulled […]
Honda CB750F restoration- Update 12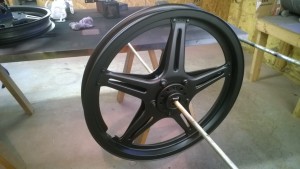 Before we can put the engine back in the bike, we need to have a rolling frame and before we can do that, we need the wheels in their final configuration… These Comstar wheels are a bit difficult to work with since they are an aluminum/steel hybrid- the rim and hub is aluminum and the […]
Honda CB750F Update 11- footpegs and forks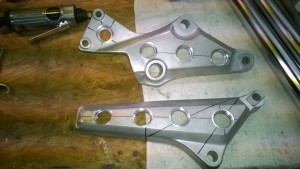 The stock peg brackets are huge and heavy but I am committed to using as much of the original bike as I can, so we are trimming and drilling to lighten them and remove the rear mounts. While I had the die grinder out, I trimmed the front fender to a more manageable size and […]
Honda CB750F Update 10- Frame
With the engine ready to install, I got to work on the frame and misc parts we need to get ready. The frame was media blasted, epoxy primed and painted in orange basecoat/clearcoat for durability and show quality looks. Frames are a lot of work since they have lots of tubes that have to look […]
Honda CB750F update 9
Well, the motor is reassembled, painted (looks great in satin black) and almost back together. Several boxes arrived with Christmas presents for the project- a new tail section and lots of stainless steel cap screws! The frame needs some mods to accept the new tail and then we need to move on to the suspension. […]
1977 Honda CB750F update 8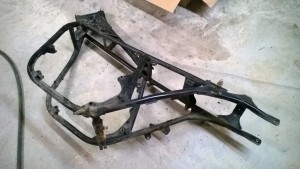 While the frame sits forlorn in the middle of the floor, I've been working on some of the smaller parts- bead blasting and painting. Also, I'm working on the gauges. I like the worn, faded look of the faces but the cases will get repainted and I'll put all new bulbs in.
1977 Honda CB750F update 7
Today we are installing the valves, springs and keepers back in the head. Step one is to make sure you lay out all the parts so you don't have to do stuff over like I did! I installed 2 of the valves and springs before I realized I hadn't put the stem seals on. Start […]
1977 Honda CB750F update 6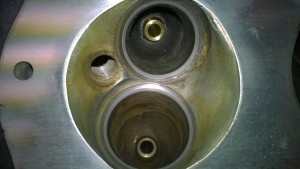 Well, lots going on in today's post- We are lapping in the valves and reassembling the head. As it turned out, 2 of the exhaust valve seats were oval from the valve guides being so worn. I found this out after getting the valves refaced to eliminate the pitting and then trying to lap them […]
1977 Honda CB750F update 5
After driving out the old guides, I needed to install the new bronze guides. First, I measured them to make sure they were within .001 in. The procedure is pretty simple- Put the head in the oven at 300deg F and put the guides in the freezer. After the head is all warmed up (30 […]
1977 Honda CB750 update 4- valve guide wear video
Since I could never get the bike to run well even after all the normal tuning and carb cleaning, I decided to pull the motor apart and take a look. It had a very "rattly" sound to it which bothered me. Nothing looked wrong except the valves had a lot of wet carbon build-up in […]
2014 Barber Vintage Festival!
Its coming up quickly- October 10-12 and I suspect it will be even bigger and better than last year. Every year it gets bigger and I don't really see how they can get more people in there on Saturday or Sunday but it will be awesome. From the earliest Harleys, Indians and Triumphs to the […]
1977 Honda CB750F update 3
Well, after installing and playing around with the rebuilt carbs for a  couple of weeks, it became clear that something else was wrong so I checked the valve timing and it may well be off, but its hard to tell since the timing marks are on the ignition advance unit and it has so much […]
Some Nice 2-Strokes
I stopped over at one of my customer's garage to pick something up and had to take a couple shots of the bikes I had painted for him. It is a very nice and rare collection- Yamaha RZ500 with the Japanese aluminum frame, A 75 Can-Am 250 that was converted into a road racer right […]
1977 Honda CB750F update 2
I've been working a bit on the CB750 and here is where it stands- the gas tank had a fair amount of rust inside and some small rust-through pinholes so I used the old distilled vinegar trick to clean it out before using POR15 sealer on it. Vinegar is a relatively mild acid that works […]
Video - click link for full sized player
Yamaha RZ350 restoration- first start!
Well, after fixing a small leak around the petcock, she started on the 3rd kick. Pretty sweet. Runs great and sounds awesome… I'll finish the buffing tomorrow and get it all assembled for it's first road test.

More Video - click link for full sized player